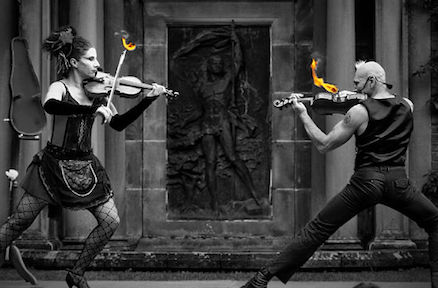 Thinking of ways to entertain your guests and make your wedding reception memorable? While a band or DJ is usually a go-to for entertainment, you may be looking for something extra to set your wedding apart. From themed dancers to musicians and acrobats, we guarantee to find you fun wedding entertainment for all your guests to enjoy!
A Fire Performer
Ready to light up your wedding reception with some fun wedding entertainment? Our fire performers can provide the perfect welcome to your reception for your guests, as well as mingling and interacting with the crowd. They can be used as a feature performance during your reception dinner, performing a variety of entertainment including fire dancing, fire breathing and fire eating. This form of entertainment is best suited to an outdoor wedding reception, however, depending on the type of fire performance and the restrictions set out by your venue, it can take place inside.
Music Ablaze
Another fun wedding entertainment idea that also features fire is the world's leading violin stunt duo, Music Ablaze. This duo sure knows how to captivate their audience with high impact shows combining live, electrified violin playing and circus stunts. You have two show options to choose from: one with fire, and one without.
"The Liqueur Flambé Show" featuring fire fused with violin, tango, fire and circus stunts together to create a unique performance. The fire component can be tailored to suit your wedding venue, from their signature 'Fire Bows' to choreographed fire poi routines and fire eating.
"The Velvet Royale Show" without fire, mixes tango, classical and contemporary violin music with unique circus stunts for an exciting wedding reception performance. Performing stunts such as the Rola-Bola Violin Rose Balance and the Sword to Knife Balance, this show highlights their outstanding circus skills as well as their musicianship. The show format and length can be tailored to your event.
Rush Cultural Dancers
Hiring dancers who can perform a traditional number is a fantastic way to bring culture and tradition to your event. At Rush, we offer a select range of fun wedding entertainment that is both impacting and authentic. From Hawaiian to Samoan and Greek, our cultural dancers will combine stunning costuming, traditional choreography and music for an unforgettable performance.
Bubble Me Happy
Roving acts can make quite an impression at any event. If you are looking for fun wedding entertainment to interact with your guests as well as pose for photos and pour drinks, then our Bubble Me Happy act may just be what your wedding needs. Perfect for a stand-up cocktail reception, our performers will walk around the venue on stilts pouring champagne, serving canapés and other food items for your guests.
More Fun Wedding Entertainment at Rush
Want more fun wedding entertainment ideas? At Rush, we are sure to have a specialty act suitable for wedding reception and theme. We also offer a variety of other performers, including solo artists, bands and trios. Like the look of one of our acts? Get in touch and let's see what we can do to make your wedding an unforgettable experience.