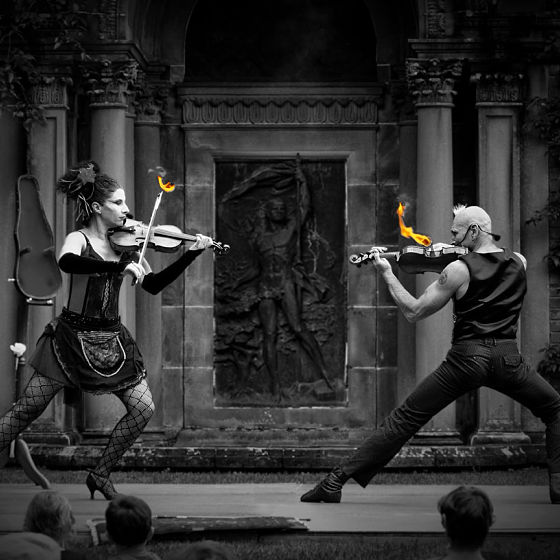 The world's leading violin stunt duo Music Ablaze will make any event unforgettable. Known as "the world's hottest violin duo", Music Ablaze have performed internationally at festivals & events from England's Glastonbury Festival to "Le Scandal" Cabaret Club in New York… and just about everything in between. Captivating, high impact shows for corporate events are their specialty. Bank of Tokyo-Mitsubishi, Hyundai, Rugby League Players Association & the RAAF have all been wowed with the duo's unique flair.
Be enthralled by a unique combination of live, electrified violin playing and sensational circus stunts.
Music Ablaze proudly presents 2 original string Feature Shows:
"The Liqueur Flambé Show" (with fire)
Award winning entertainers Music Ablaze proudly present The Liqueur Flambé Show. A breathtaking show that has earned them the reputation of Australia's hottest musical duo! Fusing violin, tango and fire performance with a unique combination of circus stunts, this scorching hot pair's exceptional act highlights tremendous circus skills and impeccable musicianship. Featuring their signature "FireBows", for which the daring duo is famous, the fire component of the performance can be tailored to your venue. Ranging from small scintillating highlights to a more dominant fire display with a production backing track featuring choreographed fire poi routines, fire eating and contemporary violin performance. For events demanding the ultimate fire artistry, the duo present their stunning giant flaming candelabra balance, fire juggling, and an incredible flaming violin. Strings on Fire specialise in high impact shows for corporate events, having wowed companies such as Redbull, EA Games and Elders with their amazing Liqueur Flambé Show.
"The Velvet Royale Show" (without fire)
An astounding mix of passionate Tango, Classical & contemporary violin and sensational circus stunts, the Velvet Royale Show takes special event entertainment to a whole new level! Dazzling glamour & excitement, stunning visual presentation, production backing tracks and breathtaking sections of solo violin… all whilst performing unique circus stunts! Featuring specifically created stunts such as Rola-Bola Violin Rose Balance and the Sword to Knife Balance, choreographed Tango with 2 playing on one violin, Acrobalance Violin, and their unique 2-high violin duet finale, the show is guaranteed to amuse, amaze and totally engage any audience. Presented by Mare and Nellie, the creators of award winning Strings on Fire. Flexible show formats – from short, impactful event openers to dynamic main feature presentations. Strings on Fire have presented the Velvet Royale Show at prestigious events for Hyundai, Bank of Tokyo-Mitsubishi, Radio Rentals, and many more.
Enquire now >