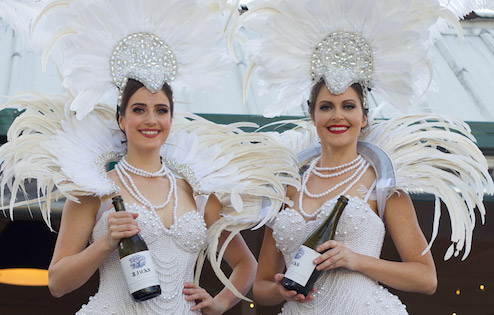 It's that time of year again and if you haven't already, we know you'll likely be locking in last minute items for your work Christmas party. You have may sorted out the venue and catering, but you might be slightly stumped on entertainment options. It's not too late to find some great entertainment! Here are our best corporate entertainment tips to help you finalise your plans this silly season.
Choose a Venue and Theme
If you haven't already done so, your venue and theme truly influence the type of entertainment you can have at your work Christmas party. So, the first tip to securing the best corporate entertainment is to choose a suitable venue that can house all employees as well as any chosen entertainment. It is also necessary to consider whether or not your venue permits you access to AV equipment and power plugs. If you are unable to install lighting, screens or smoke machines at your venue, will this hinder your entertainment plans? You must also consider what noise restrictions your venue has. If you aren't allowed to play loud music, then a band or DJ might be out of the question. The theme also influences the type of entertainment you'll have at your work Christmas party. Certain entertainment types will suit a stand-up cocktail event, and others a sit down dinner party. Let's have a look at the best corporate entertainment ideas to suit your event theme and space.
Roving Entertainment
Roving acts are the best corporate entertainment options if you're after something visual to entertain and intrigue your guests all night long. They are also ideal for welcoming your employees as they arrive to the venue. At Rush, we offer a number of roving entertainment solutions that are both visually stimulating and able to serve guests food and drinks throughout the event.
Rouge Rosettes, Glam Amor, Pearl Prada and La Tropica are all themed roving acts who can greet guests, pose for photos, pour champagne and serve canapés. All hosts have RSA certificates and can rove either on stilts or on the ground. This form of entertainment is perfect for a stand up cocktail event that doesn't require equipment or large amounts of space. But they're also very popular choices! Get in touch today to see if these acts are available for your event date.
Specialty Acts
If you want to give your Christmas party the wow factor, we offer a number of specialty acts, from magicians to comedians and circus performers. These acts are perfect during a sit down dinner between courses to keep your guests engaged and entertained.
Dazzle your guests with the contortionist, Lady Mirror Ball, who performs a breathtaking balancing act on top of a sparkling, spinning disco ball. This act has performed across the world at a number of high-profile corporate events and private events. For that extra wow-factor, the mirror ball can be rigged for an aerial performance.
Jay Jay, the multi-talented act, specialises in the art of magic and illusion and combines his talents with comedy to create an engaging performance. If you are after a performer who can perform both a standalone show as well as a roving act, Jay Jay is the best corporate entertainment for your Christmas function. Jay Jay can interact with your guests, showcasing his slight of hand illusions for your sit down dinner. Once your guests are settled in their seats, Jay Jay can then host a 15 – 30 minute high energy performance showcasing his magic and pickpocketing skills while keeping your guests laughing and interacting the entire time.
Live Band
At some point of your Christmas festivities, a dance floor will surely form. Live bands are perfect for helping your employees get up and dance until the end of the night. The size of the venue and budget will determine what type of band you secure for your Christmas party. Here are some of the best corporate entertainment bands who are guaranteed to get everyone out of their seats and not he dance floor.
First Summer, a Brisbane-based cover band, perform a mix of classic and modern party songs completely live and with no backing tracks. With a vast range of songs in their repertoire, this band can alter their set and style to suit your Christmas party, from acoustic jazz sets to a party band experience. First Summer can perform throughout the entire event, and can even perform an acoustic set list while your employees enter the function or during your sit down dinner.
Another Queensland-based band, Red Tie Band, can perform in a range of configurations, from a 2-piece unplugged duo to an 8 piece big band. After smooth background music or a set of modern hits for the dance floor? Red Tie Band know how to create the right atmosphere for your event. They can offer a formal soiree layout that includes a horn section, percussion and a charismatic lead singer, or they can swap the horns out for electric guitars and bass for unforgettable night of party tunes.
Hire the Best Corporate Entertainment For Your Christmas Party
If you would like to know more about how how we can help you create a memorable work Christmas party, and how we can find the best corporate entertainment for any event, please get in touch. Our event management team can help you select your entertainment, theme and style your venue and manage your function.