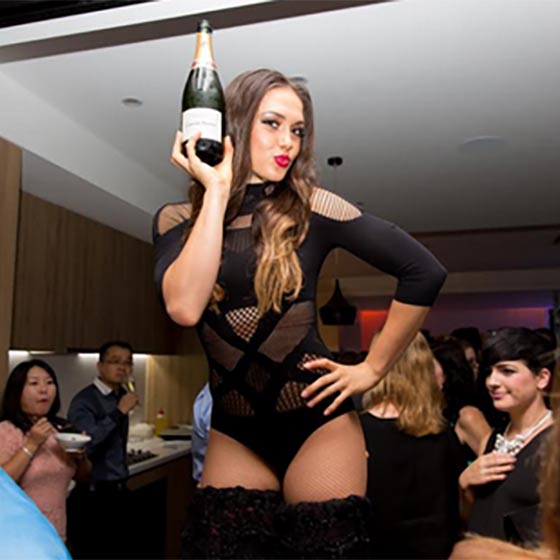 Australia has been blessed with some seriously impressive specialty acts, so you'll be spoilt for choice when deciding on one for your next event. From illuminated ballerinas to stilt walkers who serve champagne, a specialty act will certainly give your event a wow-factor. As Brisbane's premier entertainment and music booking agency also working frequently in Melbourne, here we'll give you a few ideas of the sort of event you can have with our favourite specialty acts available in Brisbane and Melbourne.
Luminaire
Luminaire is a static trapeze act featuring three stunning aerial artists performing synchronised tricks high in the air. This mind-blowing act can be customised to suit any event theme, from a playful Carnival-themed event to a sophisticated Midnight in Paris soiree. You can worry less about splurging on event styling with the visual spectacle of Luminaire present – your guests won't be able to take their eyes off this breathtaking trio!
The Three Waiters
With over 10,000 shows in 80 countries, The Three Waiters is now arguably the most popular singing waiters act of its kind for corporate events, fundraisers, private parties and wedding entertainment. This act involves three talented opera singers who pose as real waiters during your event before revealing themselves in an operatic performance that will absolutely thrill your guests. The Three Waiters are sure to liven up any event, themed or not, but be sure to book this musical act through an entertainment agency as their rising popularity makes them tricky to lock in.
Anthony Laye
As Australia's leading mind reader, Anthony Laye will leave you with an unforgettable experience full of laughs and wonder, as well as a strange feeling that you're not the only one in control of your thoughts! This is a powerful show involving a captivating lie detector test, a nail-biting Russian roulette and amazing mind tricks. Anthony is perfect for a Casino Royale themed event or even to spook your guests at a Halloween party. Whatever the occasion, unless you've seen him in The Illusionists or on one of his multiple television appearances, then you're in for a show like nothing you've seen before!
Champers Prada
Straight from the Paris/New York fashion runway, Champers Prada brings stunning, sexy and sophisticated models on stilts to pour champagne to guests as they mingle and sip on cocktails. This specialty act would be great for a glamour-themed night or any event related to fashion. Whatever the occasion, your guests are bound to be impressed!
These are just a handful of the talented specialty acts available to you for your next Brisbane or Melbourne event. Of course due to the popularity of these acts, we recommend employing the services of entertainment agents in Brisbane or Melbourne to ensure you can secure them for your desired event date. If you have any questions about these acts, or any of the other acts that Rush is affiliated with, please don't hesitate to get in touch with us.  Check out some of the hottest specialty acts around here.