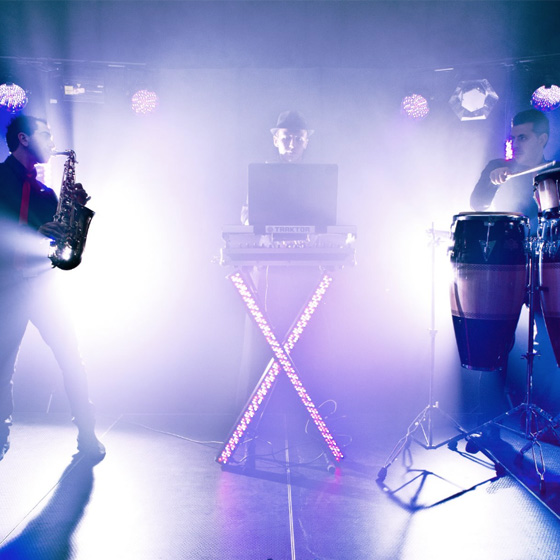 ** Sydney Based – Available to Travel **
Sincopa fuses the incredible talents of a DJ, a Saxophonist and a Percussionist to deliver the ultimate musical performance. With the unlimited repertoire of a DJ and the live band sounds of musicians, these entertainers deliver the best of both worlds. Sincopa performs any style of music desired (Dance, Pop, Funk, RnB, House, Retro, Rock etc.) and will adapt their sets to the ideal atmosphere whether corporate function, wedding reception or private party. Their speciality is a high energy show, playing a fun upbeat mix of the most popular party anthems that everyone will dance and sing along to.
Sincopa are renowned for their innovative performances joined by their spectacular stage lighting that will always WOW the guests, and fill the dance floor. These 3 skilled, experienced & passionate entertainers love interacting with the crowd, and removing the barriers between the show and the party itself. Sincopa has been enjoyed by some of the biggest clients and performed at all the best venues including – Arnott's, Kellogg's, Audi, Commonwealth Bank, Westpac, PwC, Baker & McKenzie, McGrath, Hitachi, Pandora, Colgate, Suncorp, NAB, ANZ & Lite n Easy. Sydney Tower Sky Lounge, Opera House, The Ivy, Doltone House, Le Montage, Curzon Hall, Dockside, Shangri-La Hotel, Starship, Old Parliament House, Museum of Contemporary Art, Luna Park, Sergeants Mess, Zest Waterfront, Crown Plaza, Taronga Zoo, Four Seasons Hotel, Woolwich Deckhouse and more.
Enquire now >