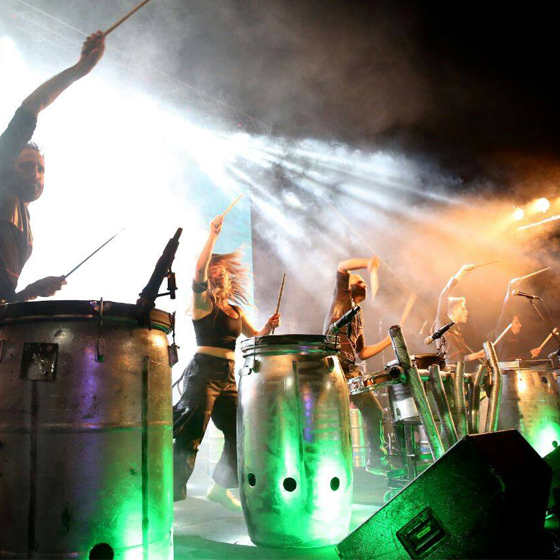 JUNK Beats are renowned for their dynamic rhythm shows. They present a series of high-energy routines that include body percussion, fire drumming, junk percussion, Kitchen drumming and hilarious skits.  Their family friendly shows draws on inspiration from everyday life, the streets and the junkyard. It is filled with imagination, humor and a lot of rhythm.
In the hands of JUNK Beats, ordinary household items are transformed into musical instruments that create a booty shaking, toe-tapping, electric atmosphere that makes you want to get up and move!
Routines: 
Drums (4:00)
Bamboo poles + Body percussion (3:40)
Crowd interaction (3:00 – 6:00)
Kitchen drumming (4:00 – 6:00)
Fire drumming + Angle grinders (3:00)
Cajons – wooden box drums on wheels (4:30)
A bunch of short, rhythmical and funny routines that includes buckets, plastic bags, melodic pipes and more…
Drum routine with L.E.D lights: (4:00 minutes)
Powerful, dynamic performance, drumming while dancing, great for a WOW effect! Mobile drum sets and unique drum constructions.
Body percussion solo + crowd interaction (3:00 – 6:00)
A good way to break the ice with the audience and from my experience it's very good to have a softer piece between two loud routines. One man on stage creating cool beats and rhythms from the body and interacting with the audience.
Bamboo poles + Body percussion group routine (3:40 minutes)
The most dynamic routine. A lot of movement and formation changing. Tribal vibes meet the streets, Great combination between drumming and dancing.
Fire drumming + Angle grinders (3:20)
The most powerful routine, drumming with fire sticks on metal barrels, moving, jumping and showers of sparks "exploding" out of screaming angle.
Kitchen drumming routine (4:00-6:00 minutes)
The most comical and theatrical routine. It has a lot of rhythm, movement and drumming on kitchen utensils.
Enquire now >