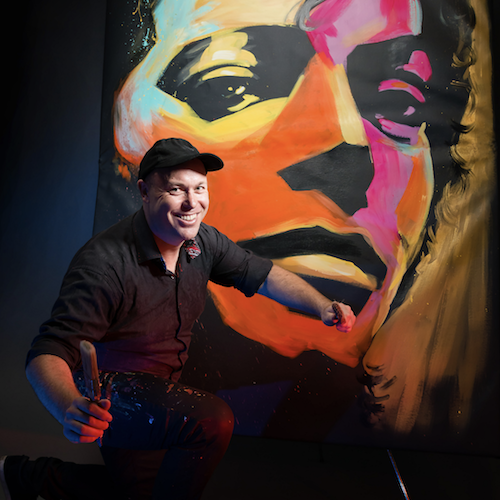 More than just a 'live painter' Brad enthrals audiences across the world with his unique show. It's high energy paintings (he is the world's fastest painter, producing paintings in under 4 minutes), comedy, audience involvement and disruptive paintings (using glitter, fire and foil) he offers something completely different in corporate entertainment.  Simply put, it's a show, not just an act.
Spanning over 10 years, Brad has appeared on numerous Australian TV shows including The Today Show, Sunrise, The Morning Show, Perth Telethon, Channel 9 Easter Appeal, Mornings with Kerry Anne, and where it all started in 2007 on Australia's Got Talent.  He has also appeared in media in Singapore, Fiji, New Zealand, Hong Kong, Dubai and Abu Dhabi. Brad not only provides unique entertainment at special events, he provides keynote speeches on topics of transformation and creativity as a conference speaker.
Awarded Entertainer of the Year – Australian Event Awards
PERFORMANCE BRIEF & PERFORMANCE CALL:
During a typical show, he performs 'high energy' paintings, painting with brushes in each hand, utilising bright colours and it's all choreographed to high energy music. Each painting only takes around 3-5 minutes. At most events he does 3 paintings incorporating effects such as glitter, fire and upside down painting. Add in some fun with the audience, some comedy and the show goes can go for around 20-25 minutes.
The paintings can be customised (ceo's, logos, award winners etc) or an impressive show is when he paints iconic people that everyone recognises eg. Marilyn Munroe, John Lennon, Einstein, David Bowie, Frank Sinatra, Muhammed Ali are popular ones.
The paintings that he performs during the show are given to the client – sometimes they are hung in offices, given away as prizes or auctioned for charity. In fact, Brad has raised over two million dollars for charities to date with the sale of paintings at events.
Enquire now >